Optimizing the blank packaging
Flat products (e.g. pre-cut parts or flat collapsible boxes) are often arranged in large, usually flat outer packagings, either bundled or loose. Since the pre-cut parts frequently have unequal thicknesses, individual bundles are packed offset to each other. Partitions and intermediate layers can be used for stabilization and to protect the pre-cut parts. The bespoke add-on module in MultiPack for this problem optimizes the arrangement of the pre-cut parts in the outer packaging. The outer packaging can be fixed, chosen from a list of existing outer packagings or adapted to the product and the storage space on the pallet.
Folding Box Optimization
Manufacturers of pharmaceutical products often pack their goods in folding boxes and then combine these into bundles of 10, 12 or 20 pieces. These bundles are arranged in disposable or returnable containers.
Thanks to the add-on module for MultiBox (Folding Box Optimization) the bundling of folding boxes and the arrangement of these bundles in the container can be simultaneously optimized. These can be bundled in the container in layers or not in layers. If there is a corresponding degree of freedom, MultiBox can also optimize the dimensions of the folding boxes.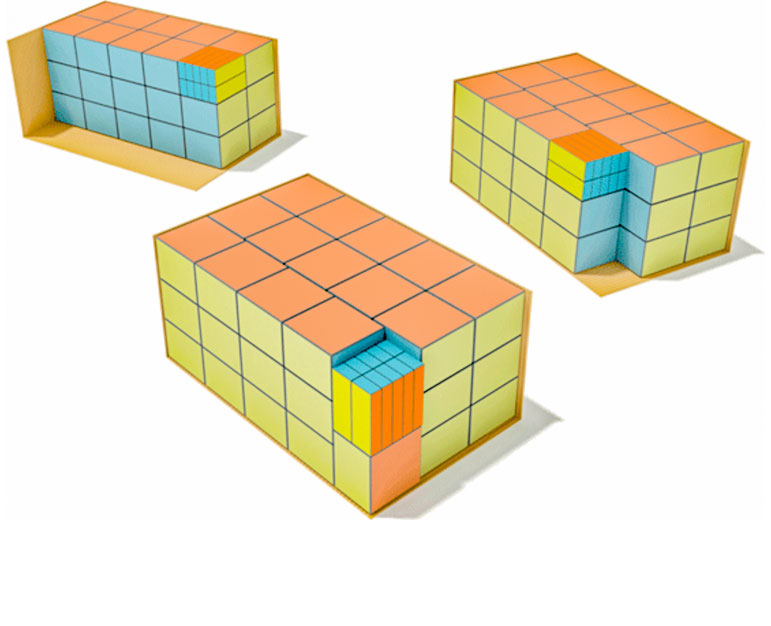 Bundled Bottles
Optimum loading of pallets with bundled bottles
Shrink-wrap bundles of four, six or eight PET bottles filled with mineral water or other drinks, for example, are often arranged in an offset way on pallets to achieve a good capacity utilization of the storage space on the pallet and a high stability of the load unit. Our customers use a special MultiPack version for this problem that calculates an optimum arrangement of the shrink-wrap bundle on the pallet.
The layer patterns suggested by MultiPack can of course be modified interactively. The individual bundles are shown in different colours for easier recognition.
Packaging Design
A special version of MultiPack was developed for the firm of SIG Combiblock in which the optimization routines of MultiPack were combined with functions for a realistic visualization of the composite beverage packagings offered by SIG (with patented shapes such as combishape® and combifit® and caps such as combiTwist®) and the corresponding packing drum.
The sales representatives of SIG thus have an instrument for efficient virtual rapid prototyping in cooperation with their customers.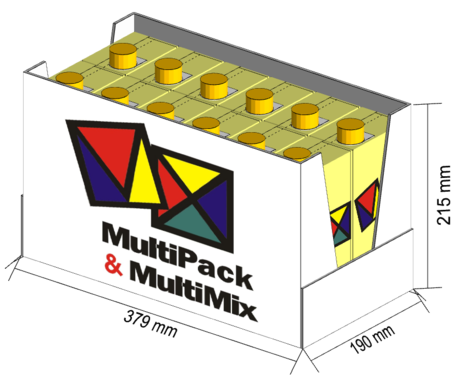 Complex Contours
MultiPack-Complex
The module MultiPack-Complex calculates optimal pallet loadings for packages with complex geometry like collapsible box blanks or cardboard box blanks. The respective package shapes are imported from a CAD file into the module MultiPack-Complex.
This software system allows the calculation of a variety of different interlocked and staggered palletizing patterns. The user can view and print two-and three-dimensional representations of the pallet loading, in addition slipsheets and other packaging support can be represented graphically.